Posted by Jake on Sunday, July 03, 2011 with
11 comments
| Labels:
Article
,
banks
,
benefits
,
Big Society
,
budget cuts
,
inequality
,
jobs
,
pay
,
pensions
According to the Department of Works and Pensions, the official poverty line for pensioners with no dependent children is
Single Person:
£
166 per week
Couple:
£
248 per week
According to the Hutton report on public sector pensions, the median pension (i.e. the amount that half the people in the group get less than) for Local Government workers and for NHS staff places them in poverty. This is even after receiving the State Pension on top of their 'gold plated' occupational pensions.
That puts 790,000 Local Government and NHS pensioners in poverty. The Hutton report also shows that a further 750,000 public sector pensioners are no more than
£
50 a week above the poverty line.
The government is trying to take money from hundreds of thousands of Britons who are in or near poverty, to fix the crisis caused by bankers who are rolling in it. Why are MPs so heartless? As public servants, do they not feel the same pain from these severe public sector pension downgrades?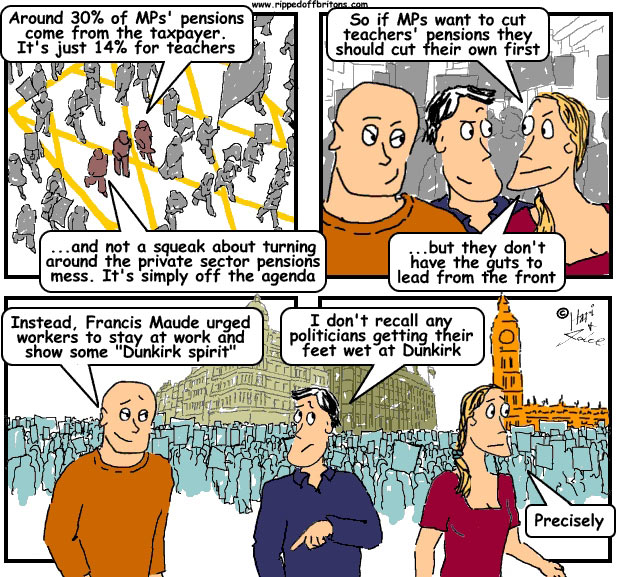 Actually, they don't. For two main reasons
a) Their own magnificently subsidised pensions
b) Their remunerated hobbies
MPs' Pensions
MPs have three options for growing their pensions. They can get...
One-fortieth of their final salary for each year of service, by contributing 11.9% of their salary
One-fiftieth of their final salary for each year of service, by contributing 7.9% of their salary
One-sixtieth of their final salary for each year of service, by contributing 5.9% of their salary
Overall, as a herd, MPs contribute a little under 10% of their salaries.
The taxpayer (described rather coyly as "the exchequer") tops up their contributions at the rate of 31.6% per year. This compares with about 14% for the teachers and NHS pension schemes.
At current salaries, using the "1 fortieth" rate, an MP adds £1,643 per year to his pension for each year he works as an MP, equivalent to £137 per year to his pension for each month he works.
So, at this rate of growth, how long does it take an MP to build up a pension equal to the average (median) pension of various public sector workers? (PCPF=Parliamentary Contributory Pension Fund)
Local government worker: £3,048 2 years 3 months
NHS worker: £4,087 3 years 6 months
Civil Servant: £5,023 4 years 1 month
So in less than the life of one single Parliament the MPs would be better off than one million public sector pensioners, from whom they intend to take money.
"According to evidence from the Government Actuary's Department (GAD), the mean length of service (excluding transfers in and added years) of active PCPF members at the time of the latest valuation in 2008 was 12.2 years, while the mean length of service (again excluding transfers and added years) of those who left at the election in 2005 was 14.4 years."
With 14.4 years service an MP could build up a pension worth £23,500 per annum at current salary figures. This pension is index linked to RPI, and provides five eighths of the amount to the widowed spouse after the MPs death. According to the FSA's moneymadeclear.org.uk website, you would need a fund of about £700,000 to buy this annuity from the likes of Aviva, Legal & General, and the Prudential insurance companies.
MPs remunerated hobbies
MPs don't have to rely on their parliamentary pensions. MPs claim that their jobs are so very demanding, using this as a reason to push up their pay and perks, and a justification for pinching expense money. And yet these same MPs find time for other jobs.
Francis Maude: (currently pushing through the public sector pension cuts)
was paid
£
9,203.23 for 15 hours work on a Barclays Bank advisory board.
Alan Milburn: (Former member for Darlington, and former Health Secretary)
Member of Lloydspharmacy's Healthcare Advisory Panel. (£25,001-£30,000) Remuneration paid annually.
Member of European Advisory Board of Bridgepoint Capital Limited. (£30,001-£35,000) Remuneration paid annually.
Member of the Advisory Board of PepsiCo UK. (£20,001-£25,000) Remuneration paid annually.
Andrew Mitchell: (Sutton Coldfield)
Paid £14,375 (inclusive of VAT) for 24 hours work as Supervisory Board member.
Paid £10,350 (inclusive of VAT), for 10 hours for management consultancy work
In a day an MP can earn more than the annual pension of 1 million public sector workers. Cutting public sector pensions? A politician will grasp at any straw so long as it is someone else drowning.
A few years ago, during the last Labour government, another Lord reviewed pensions. Lord Turner came up with proposals with many similarities to those of Lord Hutton. Broadly speaking, there is not much practical difference between the intentions of the Labour and the Conservative leadership.
Not only did Lord Turner make recommendations on pensions, including pushing up the retirement age, he also spoke frequently about the Financials Services industry and the City:
"I suggested that some of the activities which went on in the trading rooms of some banks in the run up to the financial crisis were 'socially useless'. People have asked me whether I regret those comments. The answer is no, except in one very small respect. Which is that I think it would have been better to use the phrase 'economically useless'"
As Mervyn King, governor of the Bank of England, stated: