Martin Lewis, of moneysavingexpert.com fame, started an e-petition to the British government: "Make financial education a compulsory part of the school curriculum". To see the petition, now closed, click

>>

HERE

<<

. The petition successfully exceeded the 100,000 needed to be considered for debate in Parliament. The higher the number of signatures, the harder it will be for MPs with their ignominious record of failing to legislate against rip-offs to consider and reject debating this in parliament.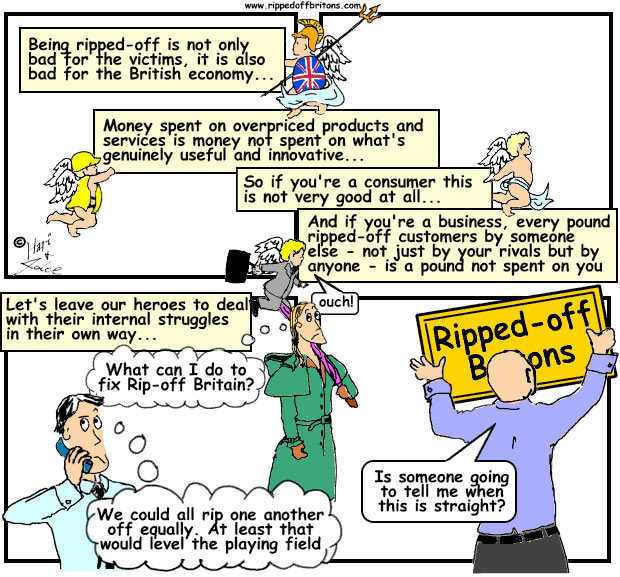 We share an objective with Martin Lewis. The objective: to build financial capability among Britons, and make them less ripped-off. This is a struggle on many fronts, but none more fundamentally important and potentially effective than education in schools. Astute young people protect themselves, their friends and relatives, and later their own children - creating a virtuous circle.
The rippers-off come from all sectors – energy, telecoms, retail – but they are lead by the example set by the financial services industry. They rip off because it is profitable and they rarely suffer any significant sanction. T
he most effective sanction could be applied b
y educating the customers to see and understand how they are being ripped off  - customers turning away and rejecting the deals because they can spot the rip-off in the first place.
Imagine, a school syllabus that includes the various rip-offs of the past. Homework analysing the impact of a rip-off - parents by helping their children at home will themselves learn. A class project to "design your own rip-off", to help the student understand the mentality of the corporate executives who create and promote these things. Examinations and assessments, and more...
The banks and insurers spend great fortunes on building trust with us Britons. They are already going into schools to build trust with the children, explaining why it's a good idea to save, to borrow, and to insure. But unsurprisingly they fail to drum into the little darlings how to spot and avoid the rip-offs.
After all, every successful rip-off stands on a foundation of truth:
Saving is a good idea:  

Though excessive fund charges can swipe upto 50% of your investment, leaving you in poverty in spite of a lifetime's saving. And if you are not eternally vigilant, your savings accounts with tempting "bait" rates are sure to drop to a measly 0.1%.

Borrowing is a good idea:

Except when you are tempted into taking on excessive debt by continual hikes in your credit card limit. Or by low teaser rates, that then jump up after a few months to strangle your finances.

Insuring is a good idea:

Unless you are sold insurance that it is impossible for you to claim on.
Building trust is their first step. "My word is my bond", the banker's lofty statement as he looks you straight in the eye, appealing for your trust. "Trust me and take me at my word. If I say it is a great product, then you can assume it is, so just sign here". Make no mistake - Financial Services and other industries will look you straight in the eye, and then poke a sharp stick into it to try and pinch your eyeball.